XP-L and XP-G2 Emitters, walk mode 250 lumens for average 1.7 watts battery hit. (See note)

The well defined beam with additional foot level lighting gives an evenness of lighting.

Max output over 1800 lumens, with over 1670 lumens beam power @ 25C.

Weight only 125 grams, power pack 182 grams.

IP67 waterproof and no silly flashy modes.

250 lumens walk mode for 15 hours then on diminishing output for up to 24 hours from a power pack that weighs only 182 grams.

Easily tilts to any angle, handles with gloves on, no messing.

Backup circuit incorporated into the beam ensures continued output even if main electronics fail.

Switches down on low battery

Two lighting options, Supplemented beams on three modes, or pilot/low level flood.

Only £150 for kit of lamp, 2 cell power pack, charger and fitting kit.
This lamp offers a magic combination of well defined beam supplemented by a low level downlight at low output. The low level downlight emanates from emitters mounted in the top of the reflectors and can be used on their own as a pilot, or with the lamp tilted upwards as a low floodlight for bolting etc. It is also a very sociable light for use in company as it doesn't shine in peoples eyes.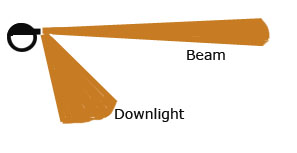 This is to the best of my knowledge the most powerful little lamp designed for underground use, for its size and weight, that you can get your hands on. And yet full power is sustainable under most conditions. I have had it on full for over 5 minutes, the lamp got warm but not hot.
I have become increasingly aware of the issue of some lamps whereby the wearer has difficulty seeing his or her feet, this is dangerous. These new designs overcome this big time.
The lamp is designed to run of serial Li ions at approx 8V, and package includes a simple Li Ion dedicated, red light-green light charger
Most exploration can be done comfortably on the walk mode setting, which only draws a measly 0.23 amps from the battery ( at nominal 7.4V) and on test has sustained this output for over 12 hours, and then continued on diminishing output for up to 24 hours on the tiny 2 cell helmet mounted power pack!
Although only drawing 0.15 amps when running on its own, the floodlight/pilot gives the impression of a lot more power due to most of the light being reflected downwards.
Small lightweight power pack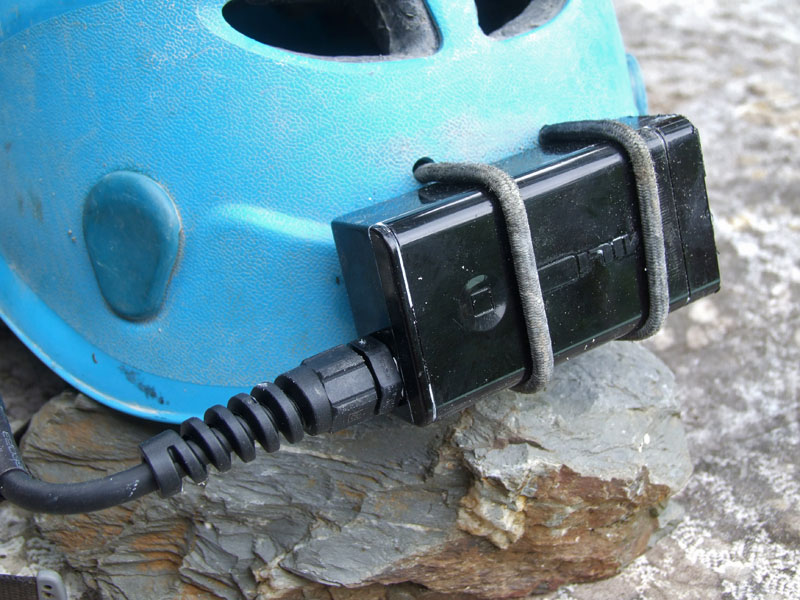 Cleaning instruction!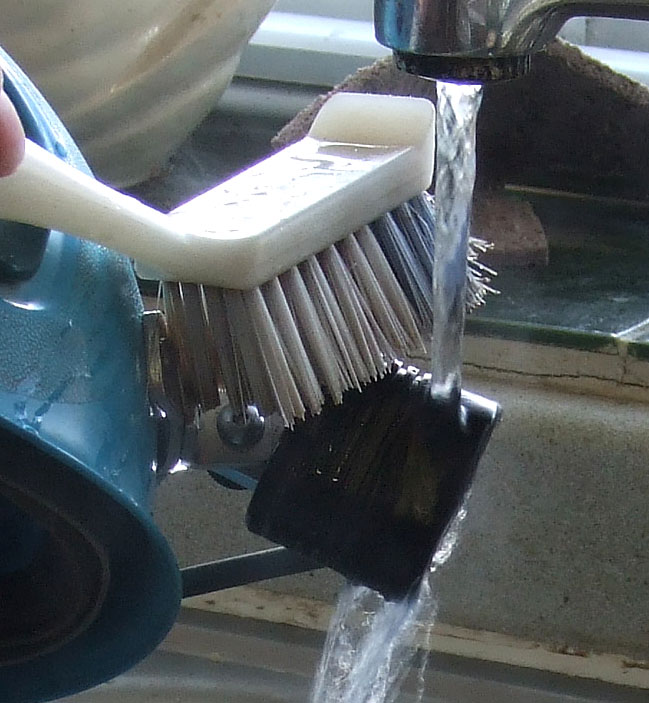 r
Low level flood, wearer on the right.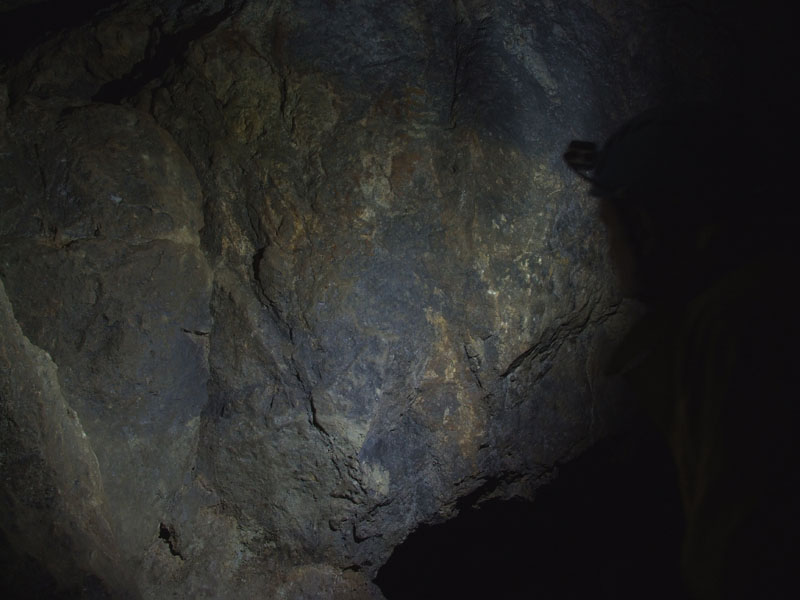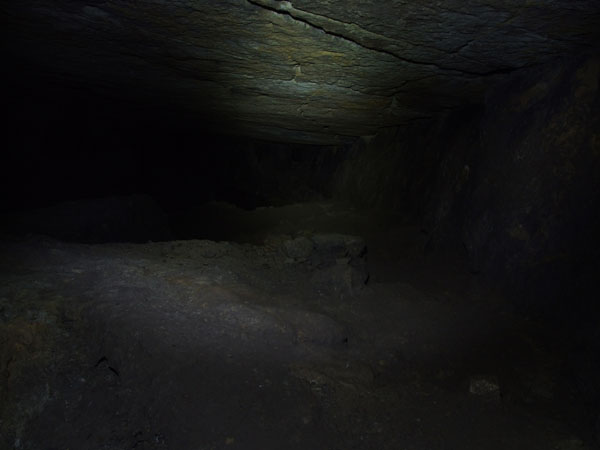 Above is standard mode in Devonshire Cavern, Matlock. Note the foreground illumination from the down light.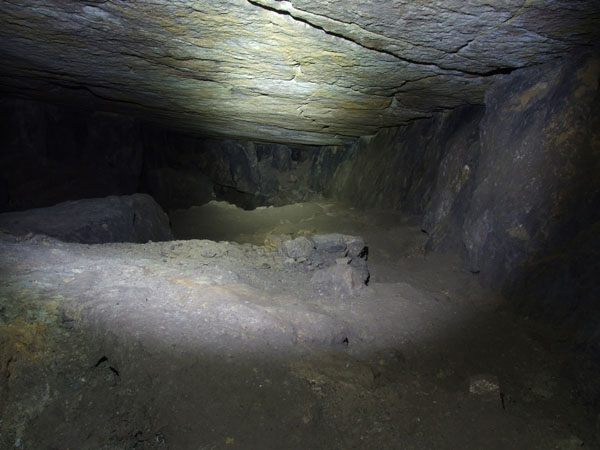 Above is the D1800 on full power, same location. Lighting is overall rather than tight beam.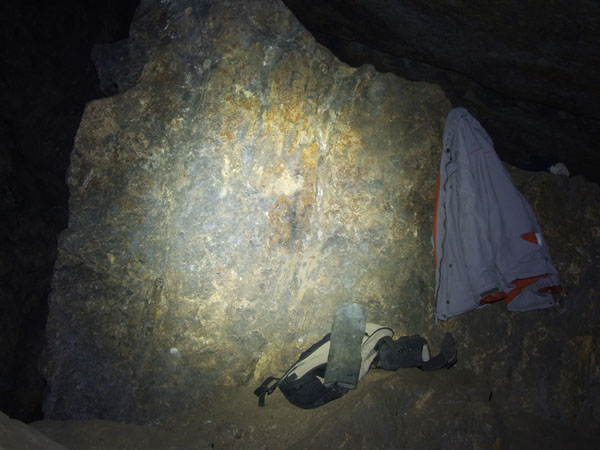 Above is the standard beam on a rock at three metres, my bits and pieces for scale.
Below: Power pack on charge. Red = charging, Green = charged, simple. Power pack for this lamp weighs only 182 grams yet is 5.2 AH and powers lamp on standard mode for 12.5 hours on this lamp.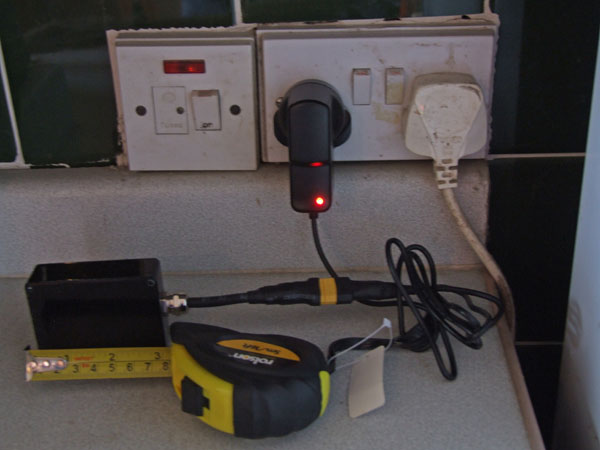 1 lamp, 1 by 2 cell 'red band' helmet mount battery pack, dedicated charger, plus fitting kit. Price £150 plus £8 post and packing, total £158.
P and P includes insurance on this lamp.