All use the very best genuine Sanyo NCR18650GA 3500 mAh Lithium Ion cells. We do not use junk batteries. Here is the manufacturers data sheet for the technically minded.
I am very pleased to be able to announce a very significant advance in my battery technology for which my new generation of lamps were designed and may be regarded as a new standard of lighting technology.
The first candidate for the new technology was the 2 cell 8V series power pack, these new technology packs are identifiable by a red band round the cable. The lamp initially tested with this new power pack is the Dragon D1200 which utilises 4 X Cree XPG2s simultaneously.
On the earlier pack the lamp on standard mode would output 250 lumens for over 12 hours, a good performance as it was. On the new it does the same but then continues to burn on a reducing output for a full 24 hours. This is not BS but actual test.
The bugbear of my superlamps all along has been the fact that a depleted power pack would suddenly switch off leaving the user in complete darkness. The same has also been true of some other lamps, a fact that Mr Biff made a point about when he first introduced his low voltage Rude Nora.
This is now a thing of the past.
The big attraction of low voltage lamps has always been the 'slow death' of a depleting battery, however it has been impossible to produce lamps outputting over a 1000 lumens utilising this low voltage technology. It is now possible however to have this 'slow death' effect on higher voltage lamps.
This is giving remarkable results on the low voltage lamps. Initial testing of a 4V pack on a low voltage Dragon D800 gave a standard mode output of 200 lumens sustained for a full 18 hours, then a diminishing output after.
The new power pack is included at same price as before of £125
Stand alone battery packs will be available for £30, or £25 to existing customers.
---
4 cell power packs supplied prior to February 2014, Trigons and some X3000s.
It is highly recommended that you upgrade to a new flat pack (as shown below) for increased lamp power and burn times plus no longer suddenly dieing on you.
Price is £55 plus postage.
See below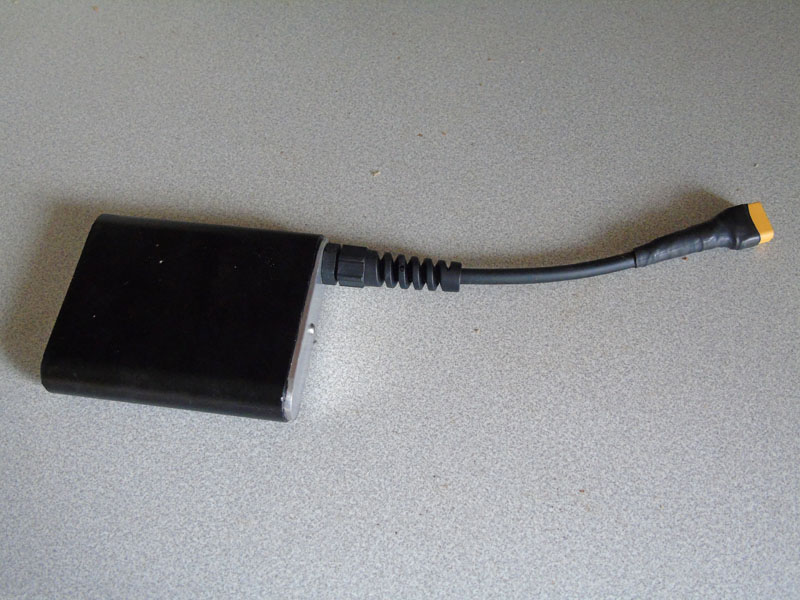 Geeky Stuff
Power pack is sealed waterproof, shockproof and explosion proof ABS plastic internally potted.
IP67 waterproof, 1 metre submersion for up to 30 minutes.
Shockproof, dropping, roof contact etc.
Explosion proof, chemistry breakdown causing cell venting, case lid forces off and vents to atmosphere.
Max safe discharge limit of cells 10 amps
Max continuous discharge electronic control 4.3 amps, over current test delay: 10ma; auto recovery after over current protection
Max charge voltage 8.55V (Dedicated charger cut off is 8.4) Overcharge test delay: 100ms; Overcharge resume voltage: 8.16 ±0.05V
Min voltage on discharge 5V. Over discharge test voltage: 4.80V±0.1V; over discharge test delay: 25ma; over discharge recover voltage: 6.0V±0.10V
Short circuit protection. Short circuit protection test delay: <=500us; auto recovery after short circuit protection
2 cell power packs below
4